---
Chickpea burgers with vegetables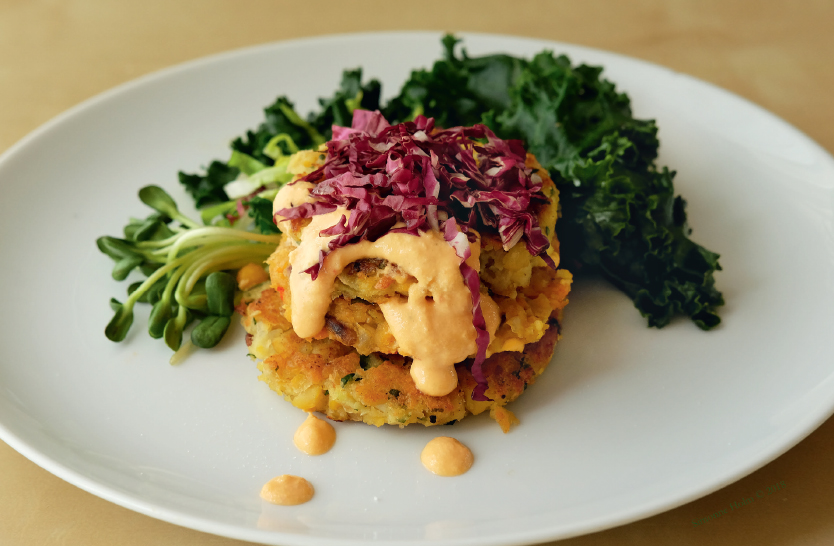 ---
Serves 4 persons
INGREDIENTS
1 big onion, chopped
3 cloves garlic
1 bundle of fresh parsley
1 handful of basil leaves (optional)
1 carrot, grated
1 stick celery, finely chopped
1 tsp Himalayan salt
1 tsp lemon zest
2 tsp lemon juice
1 tsp baking soda
1 handful of fresh herbs (or dry)
¼ tsp cayenne pepper
¼ cup of cooked rice, rice flour or chickpea flour (preferred)
2 cups dry garbanzo beans, soaked for 10 hours, drained and cooked for 45 minutes (keep the cooking water).
---
MIX THE MAIN INGREDIENTS
In a food processor or blender, pulse all the ingredients except the garbanzo beans and carrots.
Mix to combine thoroughly.
Add half of the cooked garbanzo beans and pulse.
Add the rest the garbanzo beans and the carrots.
Pulse until it forms a granular paste. Add the cooking water to dilute if necessary.
Place the paste in a bowl and let it stay for 30 minutes in the refrigerator.
---
SIDE DISH OF GREEN KALE
1 bunch of green kale, chopped and steamed in hot water for 2 to 3 minutes, and rinsed in cold water. You can remove the stems or chop them and use them, too.
---
SIDE DISH OF RED OR WHITE CABBAGE
Finely chop the cabbage and marinate it in 1 tbsp of cold pressed olive oil and 1 tbsp of lemon juice for 1 hour. Then add a pinch of Himalayan salt.
---
TURMERIC SAUCE
1 cup cashew nuts, soaked for 3 to 4 hours
1 tbsp grated fresh turmeric (or powder)
1 clove fresh garlic
½ tsp grated ginger
1 fresh chilli
½ lemon zest
1 tsp fresh thyme (or dried)
½ tbsp extra virgin coconut oil or sesame oil (preferred)
4 tsp fresh or dry herbs mixed
1 tsp Himalayan salt
½ to 1 cup of the water in which the garbanzo beans were cooked
Pepper to taste
Blend all ingredients.
MAKE 6 CHICKPEA BURGERS WITH YOUR HANDS
Pan fry in a skillet with 3 to 5 tbsp extra virgin cold pressed coconut oil for about 2 to 3 minutes on each side, until golden.
OR
Pre-heat the oven to 200 degrees Celsius /400 degrees Fahrenheit. Place the slices on a baking sheet and brush on both sides with coconut oil. Bake for about 20 minutes.
Assemble your plate. Enjoy warm or cold.
---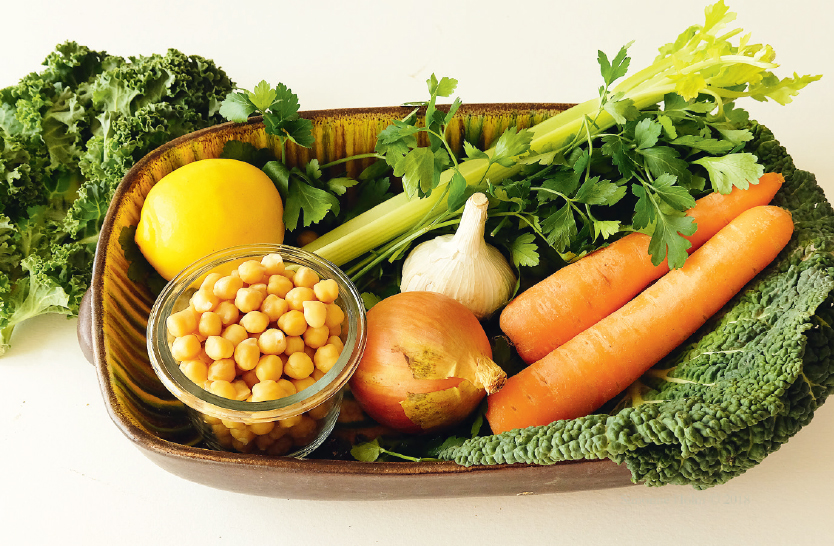 ---
TIPS
Use whole salt, not refined salt. Whole salt is rich in many important minerals.
Use cold pressed oils, as it is a healthy way to eat important fats.
Use organic ingredients to avoid pesticides and chemicals.
This is a delicious and nutritious recipe you can serve for lunch or dinner, or take to school or work.
Take the opportunity to prepare your food with joy and love, and let your loving vibrations be a part of this life-giving meal to those whom you love. Thank you Mother Earth for providing us with great food.
All the best, Simonne
---
www.alkaline-Institute.com
---
---
Recipe & photographs by SIMONNE HOLM
---
ALKALINE-INSTITUTE www.alkaline-institute.com
Recommended Posts
December 03, 2019
December 03, 2019
December 03, 2019
COLLECTORS' EDITION 2019