---
Should we cook gluten-free?
---
FÉLICIE TOCZE shows us how delicious gluten-free cooking can be. She leads us through a journey of discovery of all the tastes, flavors and textures of gluten-free ingredients and invites us to develop our creativity and explore them with enjoyment and inventiveness.
---
Nowadays, talk about gluten free cooking might sound trendy – an announcement of a diet that will magically resolve all society's problems. In fact, it is just an answer to the current reality that there is now too much gluten in our daily food, particularly in wheat, given the rapidly modified processes it goes through in order to answer the growing demands from an increasingly squeezed population eager for immediate gains.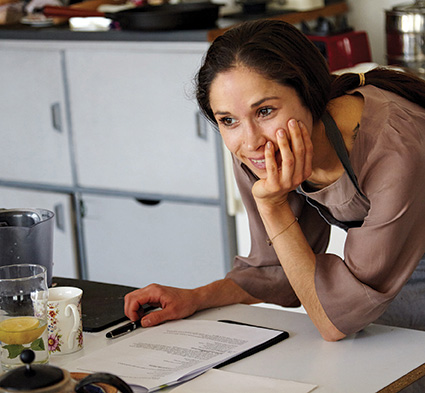 Gluten is a composite of storage proteins found in wheat and other grains, and we can be intolerant of some or all of these proteins, depending on the sensitivity of our systems. Often we feel lighter after removing gluten altogether or after removing only modern wheat from our diets.
There are two negative responses to the absorption of gluten: first, an allergic reaction involving the body's immune system, and the second being more akin to intolerance. The former requires a totally gluten-free diet, and the second a limit of our consumption of cereals and to better select them, so as to improve digestion and ease the suffering gluten can cause.
I started to explore gluten-free cooking the moment I became aware of the important role of wheat in our diet. I became interested to learn about other cereals that could replace it, and realized that without wheat I not only felt physically better but my cooking was also considerably enriched. That is a point on which I would like to insist as a cook. Actually, I am not an adept in gluten-free food, but like many other people who want to understand gluten intolerance, I explored the available literature on the topic.That is how I developed a way of cooking without gluten, thus offering valuable alternatives to those who need it.
A list of all available cereals shows that there are many more gluten-free cereals than cereals containing gluten. What our ancestors and so many other populations around the world ate shows how much we have narrowed the potential richness of our food. In order to easily remember which cereals contain gluten, we can use the acronym BROW for Barley, Rye, Oats and Wheat (all varieties).
A good choice of gluten-free cereals is offered to us:
All kinds of rice – there is an impressive number, each kind having its specific taste and culinary characteristics. Try the Italian black rice, with its rich nutty flavor and the many antioxidants it contains. It has a chewy texture, at once moist and crunchy.
Millet – many varieties are grown, and are particularly popular in France in the Vendée region, where people use millet to make tasty desserts.
Buckwheat – found in Brittany where it makes the base of the famous Breton wafers and pancakes. It also constitutes the Slavs' gruel, the Polish roasted grits (Kasha), and it is used to make comforting soups.
Quinoa – the Andean and French varieties of quinoa can either be black, red or cream-colored.
Maize – there are all sorts of varieties and colors in the world, including a Peruvian delicious purple corn.
Amaranth – commonly referred to as pigweed, this small pseudo-grain is rich in minerals, proteins and amino acids and, when added to other cereals, it gives them an incomparably creamy texture.
To such an impressive list, we can add all the plants that do not belong to the cereal families or the pseudo-cereals (like quinoa, buckwheat and amaranth), though they play a similar role for giving a substantial binding aspect to certain cooking preparations. Here I am talking about chestnut, coconut, seeds and fruits, roots and tubers such as Kuzu root, cassava, potatoes, etc., and also legumes. Now that we have all the winning cards, we just have to start playing in order to learn the rules for each one of these ingredients, as they all have their own aroma and taste characteristics. Then we can make use of their specificities.
On a daily basis, I am on an almost entirely glutenfree diet, because I do appreciate the flavors such ingredients can offer. Here are a few suggestions, quick and easy to put into practice, for a gluten-free day:
BREAKFAST:
Toasted rice flakes or millet flakes with cinnamon and white almond cream,
Buckwheat pancakes with an egg and sprouts,
Rice-quinoa bread and peanut butter, with white miso and parsley, and
Buckwheat granola crunch with hazelnuts and chocolate chips.
AN 'ON THE RUN' MEAL:
Nori maki with round semi-milled rice,
A bowl of Japanese-style miso soup with soba (buckwheat) noodles,
Risotto,
Gnocchi with fresh tomato sauce,
Vegetable pie in a buckwheat pastry dough, and
Rice and chickpeas.
DESSERTS:
Chestnut flour cake,
Buckwheat and arrowroot biscuits,
Coconut macaroons, and
Creamed rice.
Regional and international traditional recipes are a great source of inspiration. There is the famous Indian, Thai, Iranian or Spanish dish of rice, and the Italian or Corsican polenta.
If you explore, you will find a lot of recipes explaining how to use these products which are new to you. For instance, when I discovered how to make millet chapattis in India, or how to make tortillas in Mexico, it helped me integrate techniques I now use with the ingredients I find in my own environment. That is why I really enjoy these culinary explorations!
It is sometimes during a casual conversation that we grasp an idea that will change our habits: for example, for breakfast try some buckwheat bread instead of white bread. It is certainly denser but it is also very tasty.
I associate cooking with a table of flavors, textures and colors, which all comply with the idea of health. First, as we are cooking, we can savor with our senses of sight, smell, touch and taste. Then we eat to satisfy vital needs, and we are lucky enough to have a marvelous range of ingredients we can use in a variety of ways, without any constraints, because there are no rules but only beautiful ideas.
Cooking is a game as well as an art, an area of freedom and free expression we can all have in order to stay healthy. We all know within ourselves what is good for us. We all received our share of that intelligence concerning adequate food, and retrieving it only depends on us. The path is not necessarily easy, but we still have the right and the possibility to choose that path.
SOME REFERENCES ABOUT COOKING AND EATING OUT 'GLUTEN-FREE':
bacididamaglutenfree.com is an Italian website: the author is a happy gourmet and she shares with us some good addresses as well as her discoveries.
A totally Gluten Free Diet, by Clea. Laplage Editors.
95°C Magazine – high vitality recipes for steamed cooking, by Marion Kaplan.
Many restaurants display menus with gluten-free alternatives. My favourite ones in Paris are Soya, Sol Semilla, Café Pinson and Néo Bento.
A gluten-free bakery? There is one in Paris: Chambelland.
In my books, Japonism and Healthy Cooking in Keeping With the 5 Seasons, you will find many recipes and tips for cooking gluten-free and enjoying it, including an easy-to-make recipe for homemade buckwheat bread.
---
A Taste of Life
MATCHA TARTS
---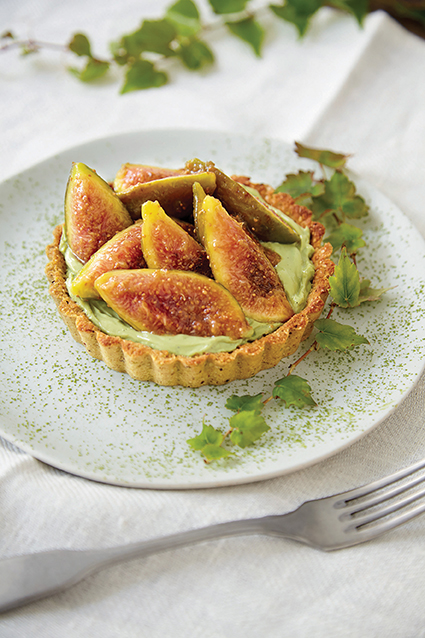 INGREDIENTS FOR DOUGH
200g/8oz gluten-free pure
oat flakes
150g/6oz coco flour
150g/6oz coco-palm-olive oil or 75g/3oz olive oil
A dash of salt
INGREDIENTS FOR CREAM
400g/16oz silken tofu
200g/8oz lacto-fermented tofu
2 tablespoons Agave syrup
1 teaspoon vanilla liquid
1 full teaspoon Matcha powder,
Olive, coco or nut oil
TO KNEAD THE DOUGH
Place the flakes in a food processor, and use the small metal blade. Turn the flakes into fine flour. Add the coco flour, salt and oil. Pulse briefly to combine. When you obtain a sanded paste, add the syrup and continue to process until the dough forms a tacky ball. Divide the ball into smaller balls fitting your pie pans. Cut out cooking paper circles larger than the pans and line the pans with them. Fill the dough in the pans. Heat in a 175° C pre-heated oven for 15 minutes, until golden brown. Take it out of the oven and allow to cool.
MAKING THE CREAM
Finely stir together all these ingredients into a cream and put it into the fridge.
FRUITS
Choose ripe seasonal fruit and cut them into bite-sized pieces. Heat a frying pan – a cast iron pan is the best choice. Put it on medium heat. When it is hot enough, drizzle with oil and briefly fry the fruit until tender. Remove from heat.
At serving time, tap the tarts gently out of the pans and spread the cream onto them. Sprinkle with a little more Matcha powder and top with the fruit. Serve immediately.
---
---
Article by FÉLICIE TOCZE
---