---
Flying kiss flipbook
This simple project is going to make more than one person happy. Your grandparents, parents, a friend that you have not seen for a long time: who would not like to receive a kiss?
---
Here is what you need:
–  A picture of yourself, from the side, showing you blowing a kiss from your hand
–  A printer
–  Scissors
–  Glue
–  Thick tape
–  Permanent markers of the color you choose
Activity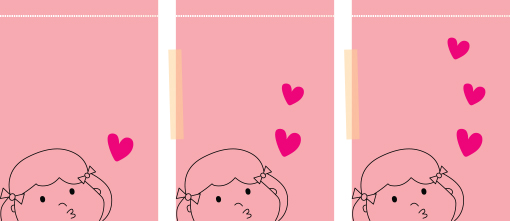 Print your photo 8 to 10 times on sheets of paper.
Use your marker to draw hearts flying from your hand, shifting their position from one picture to another and adding hearts one by one, as shown in the example.
Glue and staple all the pictures together, in the right order.
Add some heavy tape as a binding.
Flip through it!
It makes a beautiful greeting card.