---
Green Kanha
---
EACH ONE, TEACH
ONE,
TO PLANT ONE
---
The Green Kanha Initiative is an environmental initiative committed to nurturing India's mega bio-diversity, including the fast-disappearing indigenous and endangered species. We adopt the latest technologies with scientific planning to create an ex-situ conservation center replete with resplendent green spaces. 'Each one, Teach One, How to Plant One' has been a significant campaign in this journey, enabling the plantation of more than a 100,000 trees on campus so far.
---
OUR STORY
The locus of the Green Kanha Movement is a spiritual retreat center we call Kanha Shantivanam. Located in the dry and arid environs of Ranga Reddy District, Telangana, on the Deccan Plateau, with fast depleting groundwater and tracts of dry barren land, there was an urgent need to take action. In the month of April 2017, a handful of environmentally conscious volunteers started the work with love, hope and a passion to restore the lush green spaces.
At Kanha, ecologically, economically and socio-culturally important native tree species are now grown. An arboretum of medicinal trees, a germplasm bank of the tree species from peninsular India, with seedling orchards and clonal seed orchards, are being set up. Several hundred trees that were cut down due to road-widening projects have been translocated to Kanha and now have a new lease of life.
---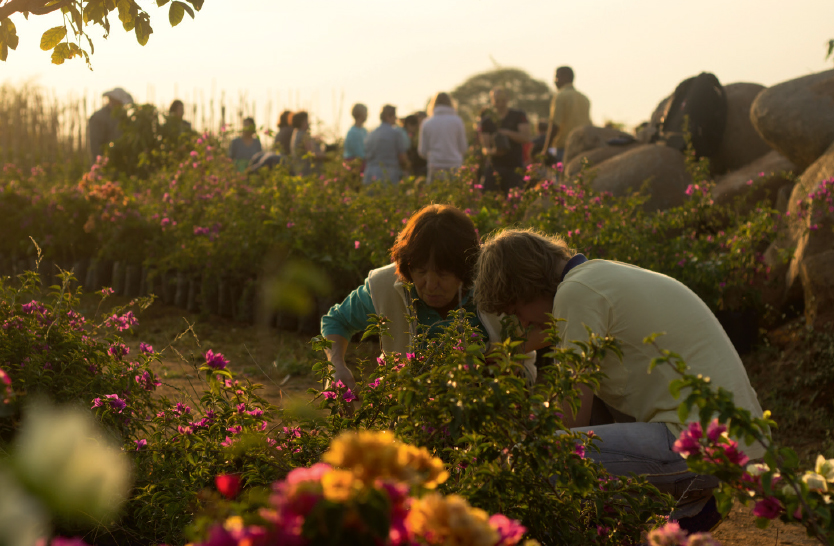 ---
Today, this ecological movement has inspired citizens from all over the world. Forgoing differences of nationality, language, race, class and gender, together we strive to create resplendent green spaces where the beneficial vibratory fields generated by trees resonate an ideal inner environment.
---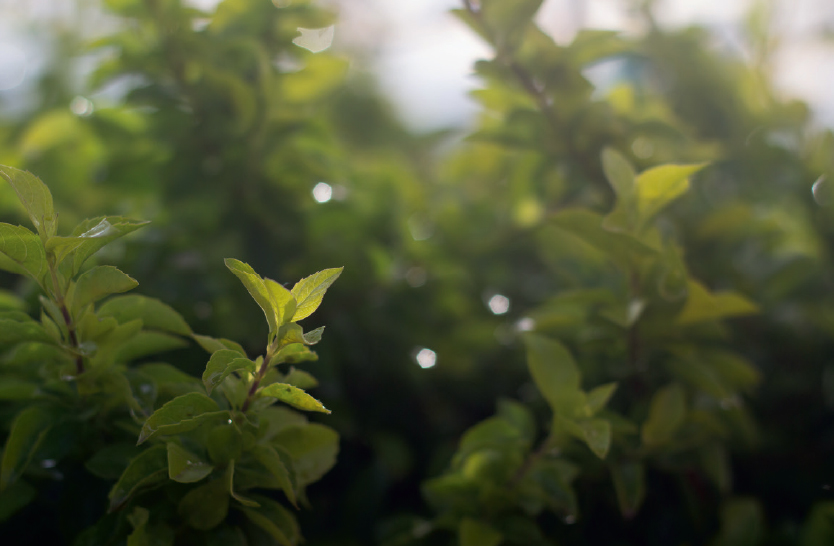 ---
VISION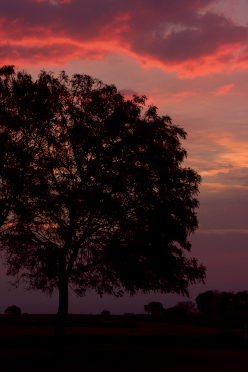 The Nature-Forward Movement:  Envisioning a space, where humankind co-exists with the rest of nature in harmony.
We live in a world where the excesses of technology have taken us away from our roots. Today, parents take children to the mall instead of for a walk around a lake. Our lives in the metropolis are determined by the pace of the mechanical clock, and the unthinking urgency of action. In this rush, we forget to pause, observe and learn from nature. The 'narratives of progress' that we follow are unsustainable and inflict violence all around us, destabilizing the delicate balance that Mother Earth has carefully crafted for her children.
At Kanha Shantivanam, nature exists in awe-inspiring stillness and beauty. The Green Kanha movement is continuing to co-create a space where people and nature co-exist in harmony, and where people are able to learn lessons from nature, so integral for their own experience of a balanced evolution.
In September 2012, the World Congress of the International Union of Nature passed a resolution declaring that children had the right to experience the natural world. This declaration has been instrumental in inculcating environmental morality in the generations to come. Kanha is home to the many generations of the future, that will seek to actively recreate peace and harmony in the world by cultivating a culture of synchronicity and a loving relationship with nature.
ACTIVITIES
We have already undertaken a variety of green initiatives, including:
TREE AND PLANTATION EFFORTS
Afforestation and reforestation of trees considered sacred and beneficial in traditional health systems.
Landscaping efforts that give emphasis to ecologically, economically and socio-culturally important native tree species of the region.
Developing an arboretum of medicinal trees and herb gardens.
A germplasm bank of the important trees of peninsular India with seedling orchards and clonal seed orchards.
An in-house nursery currently with around 200,000 saplings.
Translocation of trees felled for road-widening projects in the city to designed avenues in Kanha.
An organic vegetable farm that caters to the food needs at Kanha.
WATER CONSERVATION
The constructed wetlands methodology is used to treat waste water at Kanha in a natural and eco-friendly way with zero power consumption.
A rainwater harvesting system of storage tanks and reservoirs is prepared at multiple locations before the onset of the monsoon rains each year.
An advanced drip irrigation system is already in place. Further research is making it simpler, and more eco-friendly and sustainable.
Natural irrigation ponds are set up throughout the campus, of which five are being further widened and deepened to cover the entire catchment area.
OTHER GREENING EFFORTS
Waste management, segregating food and plant waste, various recyclable materials and disposable waste.
An organic composting system that converts food and plant waste into fertilizer for the gardens.
A fly-ash brick plant, which manufactures bricks that are relatively clean and minimally polluting instead of conventional clay bricks. Nearly 1.2 million bricks have been produced in the last year.
Solar power for the meditation center, residential colonies, street lamps and other major structures. Solar power is also being explored for farming techniques. Soon, this initiative will have about a 1 megawatt capacity.
---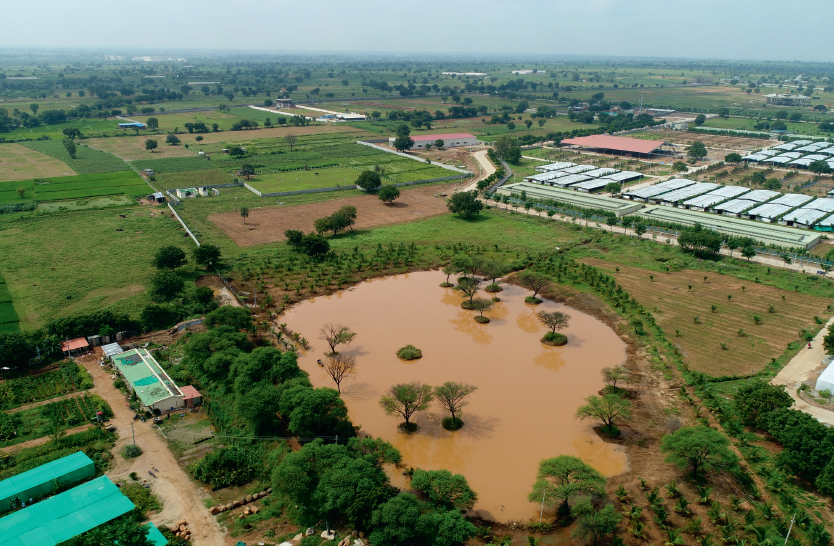 ---
GET INVOLVED
The Green Kanha initiative invites your valuable contributions both at a personal and corporate level.
Individuals contribute by sponsoring trees, actively volunteering in the plantation efforts on site, and offering their professional sustainable expertize at Kanha Shantivanam.
Corporates are participating as part of their Corporate Social Responsibility programs.
www.kanha.sahajmarg.org/green-kanha
---
Recommended Posts
August 02, 2019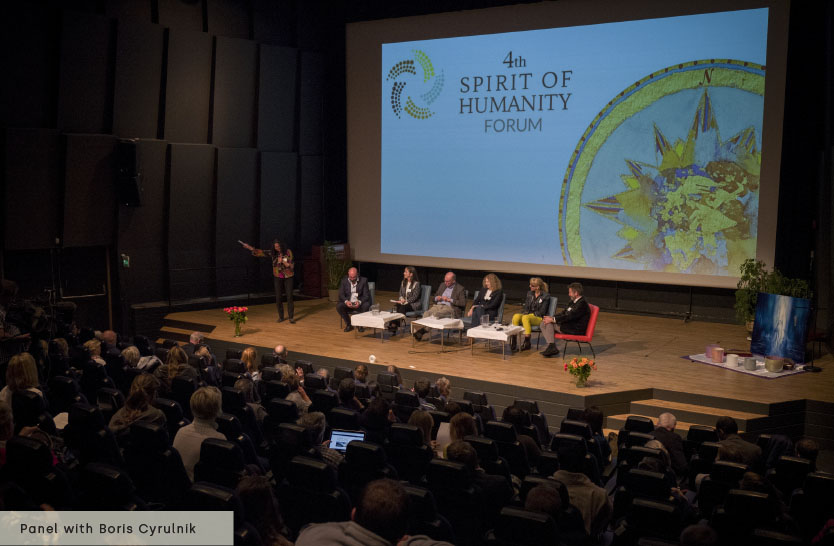 June 30, 2019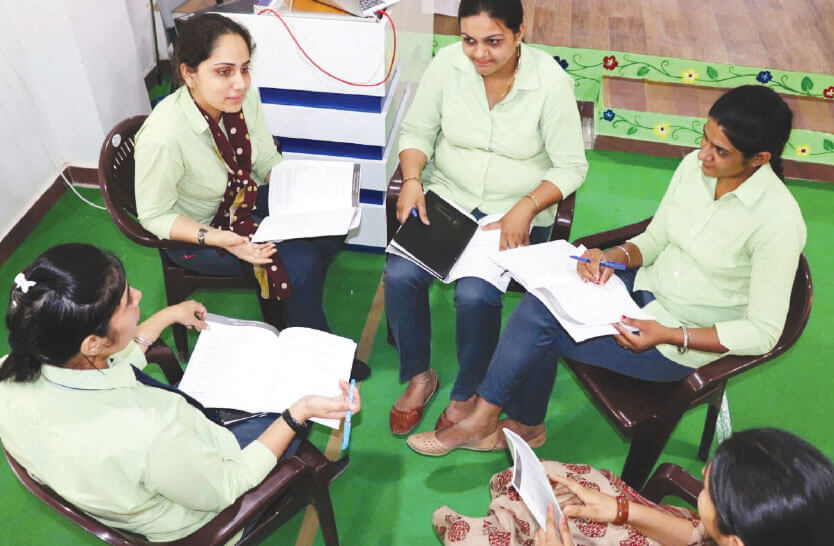 April 27, 2019
COLLECTORS' EDITION 2018