---
Heartfulness Yogasanas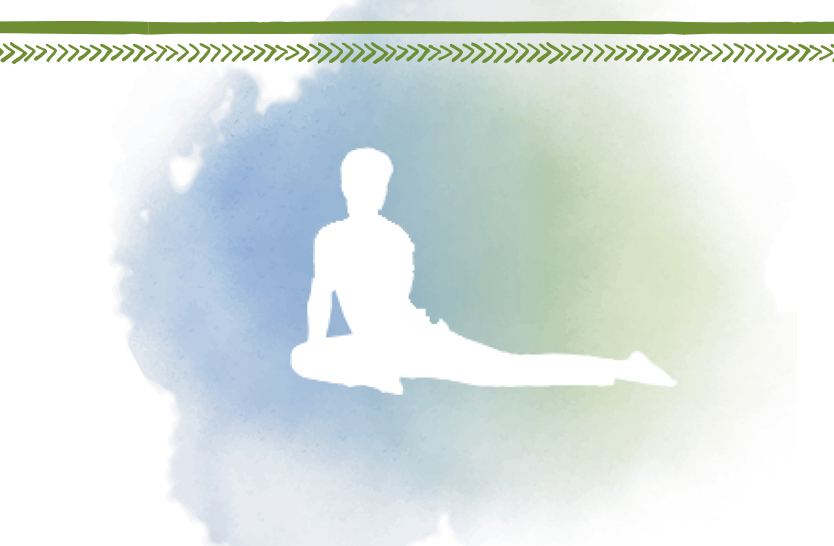 ---
RAJAKAPOTASANA SERIES
Modified King Pigeon Posture
---
Sthithi Dandasana:
Initial Sitting Posture
---
Sit erect with the legs stretched forward, and heels together.
Let the spine, neck and head be erect.
Place the palms on the floor, by the side of the thighs.
Gently close your eyes.
---
Sithila Dandasana:
Sitting Relaxation Posture
---
Sit with the legs stretched forward and feet apart.
Slightly incline the trunk backward, and support the body by placing hands behind and fingers pointing backward.
Let your head hang freely behind or rest it on one of the shoulders.
Gently close your eyes.
---
Asana : Rajakapotasana Series
---
Stage I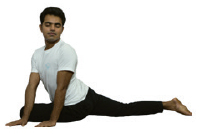 From Bhadrasana, stretch the left leg and keep the right one bend.
Adjust the right foot so that the heel is closer to the perineum, and the right knee in contact with the ground.
Shift your body to allow your hips to face towards the right folded knee, while your left leg is stretched behind. Roll the left leg so that the knee and upper part of the foot are in contact with the floor. Keep the left knee straight.
With a twist of the trunk, place both the palms on right side of the right knee.
Slowly twist the upper body more to the right side, to look backward above the shoulder, and try to see to your left foot.
Feel the twist at the spine. Do not over stretch.
Close your eyes, and maintain the posture with gentle, long and deep breaths, in and out six times.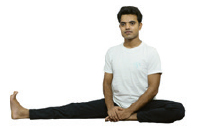 ---
Stage II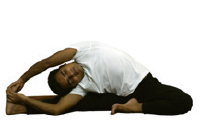 Untwist and come back to a seated posture with your right knee folded, your right foot close to the perineum and your left leg extended.
Straighten your spine.
Breathe in deeply, and while breathing out bend the trunk over the left leg laterally.
Try to catch hold of the big toe of the left foot, first with the left hand and then, if possible, with both hands. Do not twist at the waist. Feel the stretch on the right side.
Try to expand your chest and look up.
Gently close your eyes, maintain the posture with gentle, long and deep breaths, in and out six times.
Release the position and straighten both legs.
Repeat the entire practice on the other side, folding the left leg and keeping the right leg straight throughout.
Release the posture and relax in Sithila Dandasana.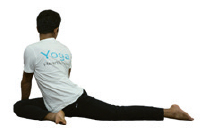 ---
BENEFITS
It gives a good stretch to the body, especially to the spine, thighs and hips.
Regular practice will help to improve blood circulation in the body, enhance the digestive system and stimulate the abdominal organs.
It increases circulation to the urinary, digestive and reproductive systems.
It helps in reducing joint pains.
Recommended Posts
February 02, 2020
December 31, 2019
November 02, 2019
COLLECTORS' EDITION 2019