---
I love to see them fill the skies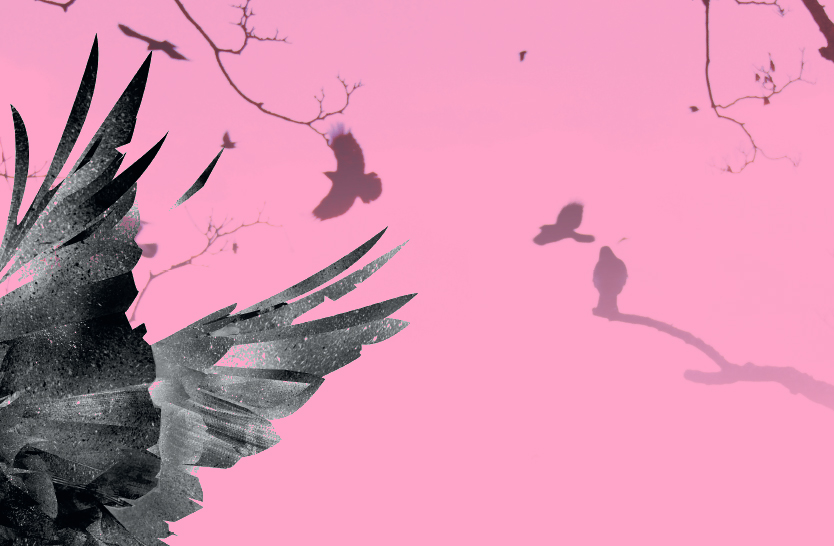 ---
On the night of the Super Moon,
BRENDA NETH

celebrates Nature and the intelligence of crows, as she learns from them how to approach her own inner journey.
---
How much I love to see them fill the skies, their black wings fluttering, their voices communicating with the thousands of others who fly with them. It is New Year's Day 2018, and I am standing on the campus of UW Bothell in Washington State. They have returned, as they always do every night, 16,000 crows landing on the field, in the trees, on the roofs. We stand to watch them bring forth the melon-colored moon, known as the Super Moon because of its large size. No one knows why 16,000 crows gather every night here, lining up on the soccer field before rising into their nightly roost of trees on the edge of the marshland near the college.
My friend Jill, an artist, stands beside me with binoculars as we stare glassy-eyed into the moon, seeing them all flying toward us. We were afraid they weren't coming. They seemed to be flying away from us but that was just an illusion! They were only escorting the large moon into the horizon, flying back to their roosts on the campus of the college. The moon rises as their individual sounds all become one.
It is an unbelievable sight to see them swarming and cawing as they fly toward us. There is no fear in me, because of the nature of these pure creatures. Only love. They come to rest, not to eat corn, destroy or agitate anyone. They are not a curse to the environment, although many call them scavengers. I call them Beloved, because they have survived evolution and have been here long before me. They are a symbol of courage to me, because I see them everywhere on the streets and trees in my hometown of Seattle, Washington. Whenever I am afraid I see them, masters of the skies, landing and strutting about to find their daily food. Cared for and loved by Nature as we all are.
I feed them sunflower seeds and, rather than fight like seagulls, each crow diligently pecks until it receives the prize of its own individual seed. That sound of cracking seeds is a metaphor to me of my spiritual journey. I must focus on my own spiritual hunger, not fight with others so as I can be the first to reach the goal. By paying attention to what I am doing, I find the treasure that I could have lost if I had not persisted beyond the shells of my own individual resistance. Those crows know something that we also know deep within our hearts. There cannot be any competition in spirituality. There can only be meeting a hungry need within the heart. How much I love to watch them throughout my meanderings around town. How much my heart is in flight with them.
Are we like those crows, evolving beyond superstition and perhaps the judgment of others and ourselves? To some, crows are a sign of evil, death, or craftiness, but crows are gaining ground in scientific circles as being perhaps smarter than chimpanzees, our immediate brethren in intelligence. In their book, The Gift of the Crow, Dr John Martzluff and Tony Angell share stories and research about the rich abundance of cognitive and emotional intelligence seen in these amazing birds. As part of the Corvid family, ravens, crows, magpies and jays all have the ability to remember, create, assist, play and socialize. They also have partners for life, and their young continue to stay with the parents, helping them with new fledglings. They are not without compassion, helping their disabled, and not without fury, sometimes killing their own. They even hold funerals for their dead. The amazing stories in The Gift of the Crow carry the theme of how much like humans they really are.
So it was on that twilight eve of the first day of the year that my 16,000 beloveds came home to roost, reminding me to have faith in the journey. If there is room in one night for 16,000 crows to land, there is room in my heart for all. One seed at a time.
---
---
Article by BRENDA NETH
---
Recommended Posts
November 02, 2019
October 31, 2019
October 31, 2019
COLLECTORS' EDITION 2019