---
Oneness in Nature
---
My intention is to capture images that elicit emotion, for what we feel and see endears us to the beauty of nature and we move to protect it.
I think of my camera as the tool that connects me in intimate ways to my world, giving me the opportunity to capture a moment of time. It is much like a runner 'in the zone' and it often allows me to experience the deep sense of Oneness that is.
---

SEIZE THE DAY
---
A juvenile trumpeter swan with a wingspan of 7 to 8 feet seemed to be greeting the new day as it turned to the morning sun. It arrived in early October in the Puget Sound area of Washington State, after a 3,000-mile first flight from Alaska with its family.
---
---
ONE MIND
---
A group of dunlins, small shorebirds, who often gather in large groups in the late winter across Puget Sound, move together like a choreographed dance, from one form to another in a split second. Are they practicing for their next journey north to Alaska to have their young? The Olympic Mountains are in the background.
---
---
ODE TO JOY
---
A juvenile snowy owl greeted me at Boundary Bay, BC, on a cold and frosty morning. The warm morning light seems to fill her with joy.
---
---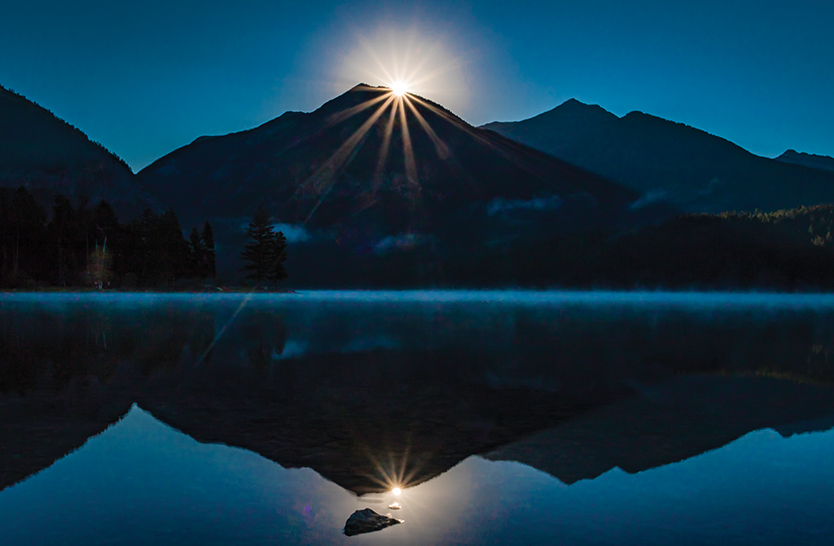 POTENTIAL OF A NEW DAY
---
Holland Lake, Swan Valley, Montana.
---
---
My focus is on nature, the awe and wonder of it all, and humanity experiencing life. I have come to know that the experience is more important than the photography. My spiritual practice is to just be present and ready for what shows up. More often than not I am overwhelmed by the beauty that I witness, and then all there is to say is thank you.
Back at my computer my first goal is to find the image that clearly expresses the emotional impact I felt at the moment. The second is to display the photography in a way that will allow others to share in the beauty I've experienced. I am so grateful for this Planet Earth and all its Beings.
---
---
Photo Essay  by JAN VINEY
---