---
The sacred dance of healing
---
An exclusive interview with
DR CRYSTAL JONES, 

who is a multifaceted

 

healing facilitator and doctor. She is fluent in many languages of healing, including medicine, alternative healing, yoga and meditation, and acts a guide for women who are ready to dive within and heal themselves.
---
Q: It seems like your vocational path has led you to hold space to help people heal and rejuvenate in many different capacities. I find that alchemy really happens when humans connect with this intention. Can you share a little bit about the space that's created when two people come together to evoke healing?
CJ: I feel the space that's created when two people come together to evoke healing is like a sacred dance. A lot of the time there's the healer and the healing facilitator, but I really think it's two people on the same accord.
When a person is looking for another language of healing and more depth, and they cross the path of a healer, they are also responsible for understanding what they want from it, rather than only thinking, "This person is a doctor, or this person is a Yoga instructor and they've mastered this, so it will give me what I need." So as a healer I generally ask the question, "Who are you? What is it that my path can do to serve you?", because we can't be in a sacred dance until we both own the fact that our healing is within. Our power is really something that comes together to read each other and to move through different interferences and destructive cycles together.
Q: And building on that, how do you find yourself balancing your role as a guide while also allowing that person's inner guidance to come forward naturally?
CJ: I guide based on listening to them. So they actually lead. I consider myself as a guide in the same way as someone who speaks a different language would be a guide for someone else. I hear what people are saying – I listen to what they're saying, what their worries are, what they're saying with their non-verbal cues – and when it seems like they are getting stuck in a pattern, I translate it so they understand why their body is responding this way. What core values, what core experiences, what core truths are they going with? And so their guidance actually tells me what that is.
When I ask them who they are and what they want out of this experience, we have a clear path and I understand what their belief systems are. I understand that maybe they have a need to be needed, or maybe that they want to feel loved, but they don't have boundaries, they have walls up. When I understand that, I can see where the disconnect is and why they're not necessarily where they want to be. Just because they're saying what their core values are, and where they want to be, that's not the same as being there. Incongruence will never really produce results, and so my job is to be in there and help them create that level of congruency.
It's an evolutionary process, so it doesn't necessarily happen that same day. It could, but it is not supposed to happen at a certain time. It's a process of evolving a truth until it's a core belief, and when it's a core belief that's what can then be expected. But now I also have the understanding that what we're looking for is never outside us; we're just unable to accept it and remember it at this moment.
Q: You were talking about your process of being a translator. I find so much of healing is a reconciliation of syntax. We tell ourselves one thing, and then we have to uncover that it's actually something else. Can you speak more about how people are able to translate a problem into something more empowering?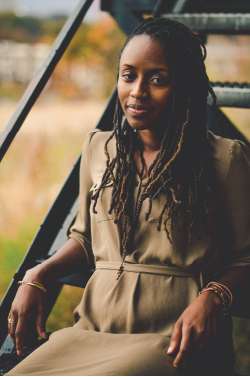 CJ: It might sound like a cliché, but a lot of it is the 'scarcity and abundance' mentality. A problem means that we feel we are lacking something, and that right there is enough to understand that we are not in the present moment. A person coming for healing is not in the present moment because they're lacking something. So they have to get to the point when they're not lacking anything and they understanding that their experiences have led them to this point. Then, what they are doing is understanding that they are excellence and perfection personified. For that, they have got to go within, but it's not necessarily a problem.
Any time we see things as problems, we are discounting that we're made in the image of perfection. And so we continually fight ourselves and continue to be who we are not, rather than accepting fears and shadow truths and realizing that this is our wholeness. Where we are right now is our wholeness. If we want to create a new narrative we can, but there is nothing wrong with our existing narrative; it's just where we've been till now and the things we've accepted as true.
So let's figure out what's true and what's not. Say we don't want certain belief patterns to be true anymore, where are they coming from? Do we want to evolve those patterns, or do we want to stay safe right now and just be where we are?
Now that everything is on the table, we can decide where we want to go because that is our decision. "Okay, now I understand where this is coming from, why this is happening, based on what I just said. If I want to change it I can. If don't want to I don't have to." We may want to change in six weeks, we may want to change in six years, or whatever. It really gives us the opportunity to understand, "I'm not in a problem. I'm just a screenwriter." And when we see what's not working on stage, what we can do is to change the script, not the characters. We change the script.
Q: We have this potential to evolve into that higher Self. What do you see as those major thresholds or milestones that we have to pass through to continue on this journey?
CJ: One of the major milestones is owning power and understanding that we are the co-creators of our lives. We get to make those decisions. Understanding that life is happening through us and for us, not to us. Situations are happening, but they are happening through us and for us.
I think that's the biggest limitation – thinking that we are always the victim. I don't mean that nobody's ever been a victim of anything, but that everybody tends to see or operate based on, "What happens to me?" The truth is we operate that way, however we can turn that story into what we want to turn it into. If we don't understand the power we have – to turn that story into what serves the highest good – then we'll continue to be in a problem, we'll continually think something's wrong with us, and we'll continually be acting backwards.
To be continued.
---
Interview by EMMA IVATURI
---
Recommended Posts
November 02, 2019
October 31, 2019
October 03, 2019
COLLECTORS' EDITION 2019