---
The secret to happiness around the world – part 1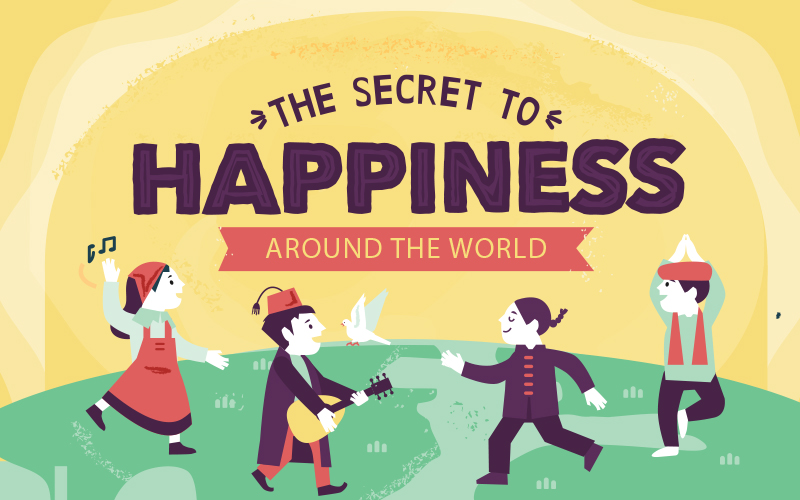 ---
Self-help books may tell you to look inside to find happiness, but you can also find it by looking outside — as in outside the country. People from Central America to Scandinavia regularly rank among the happiest in the world.
We'll let you in on their secrets so you can try them yourself.
---
Researchers have studied happiness the world over. Organizations have even ranked countries on a happiness scale. So, what have the world's most inquisitive minds discovered? Is there a secret to happiness?
Is happiness spending time with loved ones, or spending time alone in nature? Is it losing yourself as you dance to music, or finding yourself while quietly meditating? The secret to happiness is actually all of these things, and more. It varies from country to country and culture to culture.
In some cultures happiness comes from a tangible practice, like Tai Chi, which the Chinese have been practicing for centuries. For others, the secret lies in a philosophy that's put into practice. Costa Ricans, for example, are guided by the idea of a simple, carefree 'pure life' known as pura vida.
According to the annual World Happiness Report, Norway is the happiest country, scoring highly in its approach to caring, freedom, generosity, honesty, health, income and good governance. Meanwhile, the Happy Planet Index ranks Costa Rica as the happiest country on Earth. While opposites when it comes to climate, the two countries apparently have one thing in common: happy citizens.
Despite the many diff‹erences in what constitutes happiness in countries around the world, there are some common threads. The most notable has to do with material wealth, or rather, the lack of it. Few people, if any, around the globe find happiness through personal possessions and financial success. Rather, they tend to attain it by appreciating the little things in life and, more importantly, the people in their lives.
---
The Secret to Happiness Around the World, courtesy of Home To Go
Recommended Posts
November 02, 2019
October 31, 2019
October 31, 2019
COLLECTORS' EDITION 2019