---
Shunryu Suzuki and Zen in the US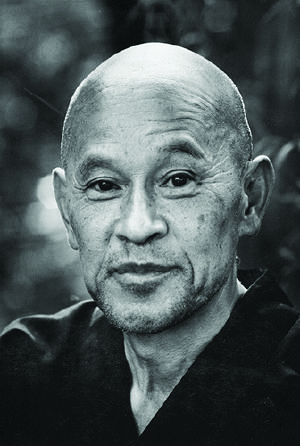 Zen Buddhism has an interesting history in the United States. In 1893, Soyen Shaku travelled as one of four priests and two laymen to Chicago to represent Japan and Zen at the World Parliament of Religions. He was considered to be an exceptional monk, and he returned again in 1905 to spend a year in San Francisco teaching, and then travelling across the country by train, stopping and giving classes on the way.
During the 1920s and 30s, Zen became established in both California and New York, and by the end of the 1940s it had spread to other parts of the country. Then in 1951, DT Suzuki, a student of Soyen Shaku, began conducting seminars about Zen at Columbia University in New York. Among the students were a number of influential artists and intellectuals, including Erich Fromm, Karen Horney, John Cage and Allen Ginsberg.
Shunryu Suzuki arrived in San Francisco in 1959 to attend to the Soto Zen temple in San Francisco. Also called Suzuki Roshi, he was a Soto Zen monk and teacher who went on to have an  important role in popularizing Zen Buddhism in the United States. He is renowned for founding the first Buddhist monastery outside Asia, the Tassajara Zen Mountain Center. Suzuki also founded the San Francisco Zen Center.
When he first arrived in the US, Suzuki took over from the interim priest, and was surprised by the watered down Buddhism practiced at the temple. As a result of the Columbia University seminars, Zen had become a hot topic among the beatniks and intellectuals, so word began to spread about Suzuki through places like The San Francisco Art Institute and The American Academy of Asian Studies.
Suzuki was asked to teach a class at the Academy on Buddhism, and this sparked his long held desire to teach Zen to Westerners, something he had thought about even as a young man in Japan. The class was filled with locals wanting to learn more about Buddhism, and the presence of a Zen master was inspiring for them. At the end of the session, Suzuki invited everyone to stop by the temple for morning zazen (meditation). Little by little, more and more people would show up each week for zazen, borrowing cushions from wherever they could find them.
---
"In the zazen posture, your mind and body
have great power to accept things as they are,
whether agreeable or disagreeable."
– Shunryu Suzuki
---
The westerners who joined Suzuki worked with him to form the San Francisco Zen Center in 1962. The Center flourished and in 1966, at the request and guidance of Suzuki, Zentatsu Richard Baker negotiated the purchase of the Tassajara Zen Mountain Center in Los Padres National Forest. Suzuki left his post at Sokoji to become the abbot at one of the first Buddhist training monasteries outside of Asia.
Suzuki chose to work in America to reform Zen, returning it to pure zazen and practice-centered roots. His book, Zen Mind, Beginner's Mind, was compiled from a series of informal talks he gave to a small group in Los Altos, California. It was published in 1970 and remains one of the most popular books on Zen Buddhism in the West.