---
Awakening dynamic imagination – part 2
---
FABIENNE VERDIER

is a French painter who creates unique and fascinating work. Having received international recognition, her work is exhibited in large public and private museum collections. At the age of 22 she flew to Sichuan, China, a remote region close to Tibet where she met the old Chinese masters and learnt calligraphy, the millenarian art of scholars. And now, with a single brushstroke, she has created a new universal pictorial language. Here we continue with her interview by the passionate art historian and consultant,

DÉBORAH FEST KINDLER.
---
Q: Speaking about your innovation in style and designing brushes, we find this new dimension in the Roland Garros 2018 poster that was recently unveiled.
FV: I tried to catch the ball. It was difficult and I started again and started again. This approach of bringing art and sport together was fascinating.
Q: And your painting evokes the strength of intention in great sports people very well.
FV: It's a game of the mind. A marriage between inner discipline, intellectual understanding and spontaneity. Moreover, this merging of art and mastery comes from India.
Q: So every time you design a new tool, new energy arises on your canvas. And recently your visual research seems to have gone even further into abstraction, notably in the Walking Paintings, in which you seem to have a very material relationship with the painting and experience a real melee with the material.
FV: I now work on the very surface of the canvas. I took the leap to be in the chaos of matter, in the great river of the world. For questions of physical constraints, I had to create another lighter tool, in order to handle it better. While doing tests on the ground, as I was moving through space I saw a new energy that materialized in the form of circles. The great masters say that everything is born of the circle, but it is still difficult for me to understand! I realize that when these circles of paint burst onto the canvas, they create forms of the world, like arborescence, lines of lightning.
---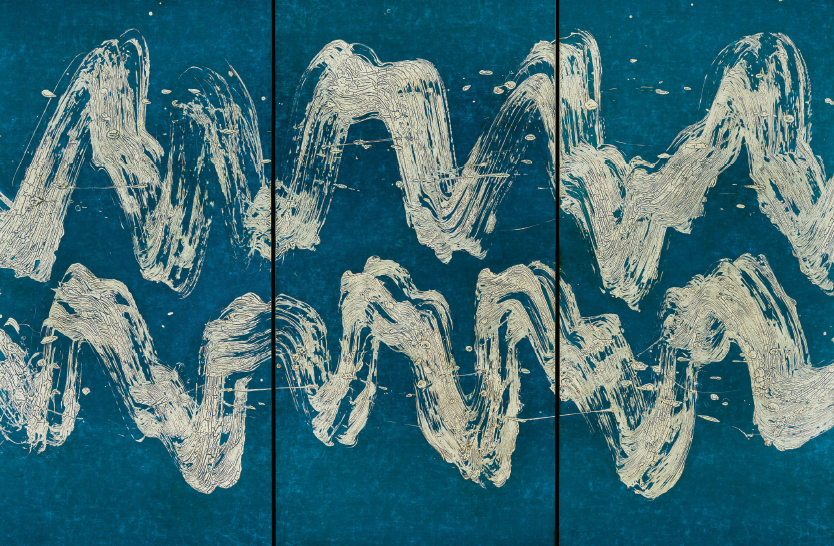 ---
This way of creating was so spontaneous and so strong that I became scared. It was so much at variance with the teaching I had received and the traditions of the literati. I was afraid of such force. And since I am against force that destroys, I did not know what to do, and so I put this work aside. It was on a winter's day, in front of the frosty branches of an apple tree, feeling a vital boost in the vegetation, that I became aware of the work I had done.
Q: As if the gesture had preceded the thought?
FV: Yes, and I would love to work on this with neuroscientists.
Q: In your book, Passagère du Silence, you talk about the attitude of the heart in the act of painting.
FV: We never dare to speak of love, but if I am so hard on myself and lock myself in, it is the voice of the heart that speaks.
Q: You also quote a sentence from Kandinsky saying that the artist must be blind to the recognized or unrecognized form, deaf to the demands and desires of his time. His eye must be directed to his inner life and his ear strive towards the voice of inner necessity. Do you still identify with this?
---
Painting is also an ethic.
We defend a principle, and we must feel it on the canvas.
Painting is a whole state of mind,
it is the whole being that expresses itself.
---
---
FV: Yes, completely. That's what makes art difficult and why I don't relate to any trends of contemporary art. I prefer my small solitary path.
Q: Indeed on the contemporary art scene you may be perceived as a UFO. You are one of the few artists to speak to us about metaphysics, intuition, movement, breath, inner life and what painting can bring to the eye that contemplates.
FV: Yes and intuition is fundamental. There is a lot of work to be done in current teaching on the question of the keenness of intuition. Moreover on the contemporary scene, there is almost no painting. I am very disappointed in what I see, for example, these generations of artists who produce numbered editions for money. Will money and the market destroy everything? Painting is also an ethic. We defend a principle, and we must feel it on the canvas.
Painting is a whole state of mind, it is the whole being that expresses itself. And unfortunately, a lot of the painting that is expressed today is of great violence.
Q: You often speak of asceticism. Can painting be compared to a spiritual process for you?
FV: I dare not say it because I will be unfairly accused of being esoteric. I suffer a lot from this label.
Q: Is it a taboo to speak about art and spirituality, the heart and metaphysics?
FV: In our conceptual culture, yes. These issues are disturbing. It's very sad.
Q: This is even more surprising when it is clear that your approach is so close to that of a scientist, a researcher, who does not hesitate to question all paths of knowledge.
FV: Yes, so I continue with my little stance, because art is spirit.
Q: Do artists have a role in our society? What is their place?
FV: What I can say is that in my opinion, they bring an experience of what humans can understand as the vibrations of the world, when they are in a state of receptivity. There is nothing more fascinating than sharing these experiences.
When we listen to great musicians, we are totally transported by the inner songs that they transmit. It is a very special place between the world, the interiorization of the world, and the interiorization of their beings. It's an inner journey. We artists may be trying to transcend what we've learned, to go beyond knowledge, to go beyond the boundaries.
More and more, I go outside the studio. After 40 years of work in a terrible solitude, I feel that I have to come face to face with other realities. We have so much to learn from each other. My approach through my work on the American abstract expressionists, the Flemish Masters, the musicians of the Juilliard School in New York, and also the meeting with the great linguist Alain Rey, who gave us an extraordinary experience on the energy of the word and of the world, all flow in this direction.
---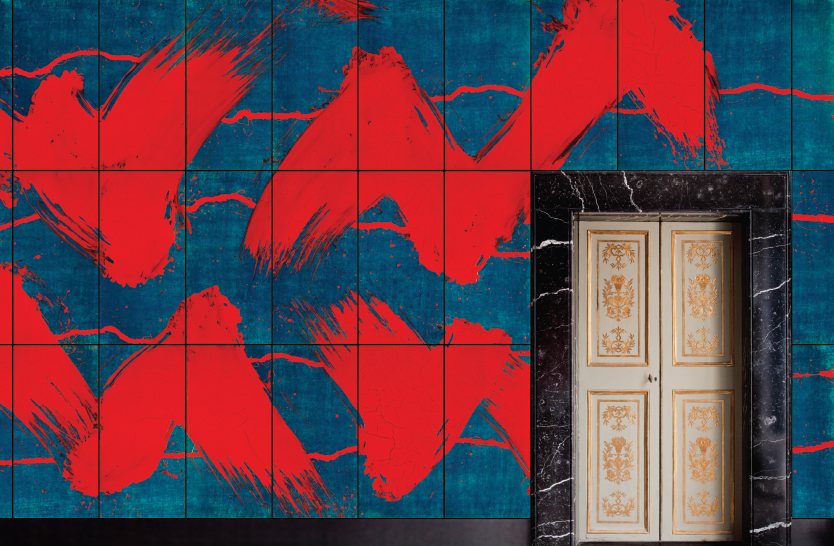 ---
Q: You are constantly experimenting and seem to be always expanding your comfort zone. And when we observe your works, we discover a great unity, a kind of universality. There is also the fullness and emptiness you are talking about.
FV: Yes, these are paradoxes. The further I go, the more I realize that the void is the infinite form.
Q: There is silence too …
FV: Yes, I have spent my life digging silence and realizing that it is full of the activity of a thousand and one forms of whispering. I am stunned after all these years of work to see everything that can emerge from silence, just as everything emerges from the void. It is difficult to convey.
Q: Is it receptivity?
FV: Yes, by being open and receptive things come to you. Like a magnet. I am looking for this: that the life force that animates us connects with the living world. We are disconnected from nature. But we have an infinite field of possibilities in front of us and we limit ourselves.
Q: You are a very humble person. Is it your humility that allows you to be in this state of openness all the time?
FV: Painting makes us grumpy and idiotic, but contact with Nature frees us. When we free ourselves from the 'I', from what we believe to be, we are much more connected to the world and to others. And life becomes simplicity, emotion, poetry. We are so afraid of complexity that we have created rituals to sustain and protect ourselves, to reassure ourselves. And we need that! But sometimes we have to jump into the void too.
Q: Tell us about breath in painting.
FV: The more I progress, across totally different disciplines and aspects of life, the more I come back to breath; to the breath of the world that animates everything. The single brushstroke that is the matrix of my work speaks of this infinity. It is not necessary to paint forms as seen in the figurative and narrative tradition, but to grasp the forces at work, those forces that naturally create the forms. It is a complete reversal that opens us to that poetry. We are in the suggestion.
Q: So, is it no longer necessary to express everything? Is it the brain that establishes the connections?
FV: That's what is beautiful, what create puzzles. It creates elation, joyousness, and I try to offer small moments of joy.
Q: What advice would you give us to help us improve our relationship to the world and to our planet?
FV: Open up to others. Open to the light, open to silence, open to the song of the bird in the early morning, so you can sing like him too. It seems important to me to work on oneself, to reconnect with the world and to be in contemplation.
---
---
---
---
Interviewed by DÉBORAH FEST KINDLER
Photography by INÈS DIELEMAN
---
Recommended Posts
June 29, 2020
May 31, 2020
May 31, 2020