---
Prayer in color
---
AN ART ESSAY
---
SYBIL MACBETH

can't remember a time she didn't pray, but she also can't remember a time she prayed 'well'. The practice of 'Praying in Color' was born when her desperation to pray for her family and friends intersected with her love of color and doodling. As a self-professed non-artist, she marvels at God's sense of whimsy and humor in giving her a way to pray through her drawing.
---
My first doodle began in the kitchen. A friend invited me to her house for dinner. After the meal, she said, "Now we are going to draw."
"Draw? Oh no! I can't," I whined.
My mother and grandmother were skilled artists. I can't draw a dog, a cat, a tree, a house, or anything else. Shame is the main emotion I felt whenever I picked up a crayon or colored pencil.
My friend Cindy insisted, teasing me with a handful of beautiful colored markers and a black pen: "Go into my kitchen drawer, choose an interesting object, and trace around it with the pen. When you finish tracing, keep going."
An odd spiral utensil in the drawer caught my attention. When I finished tracing around it I kept going, letting the pen make new shapes and marks. I even added color to the doodle.
---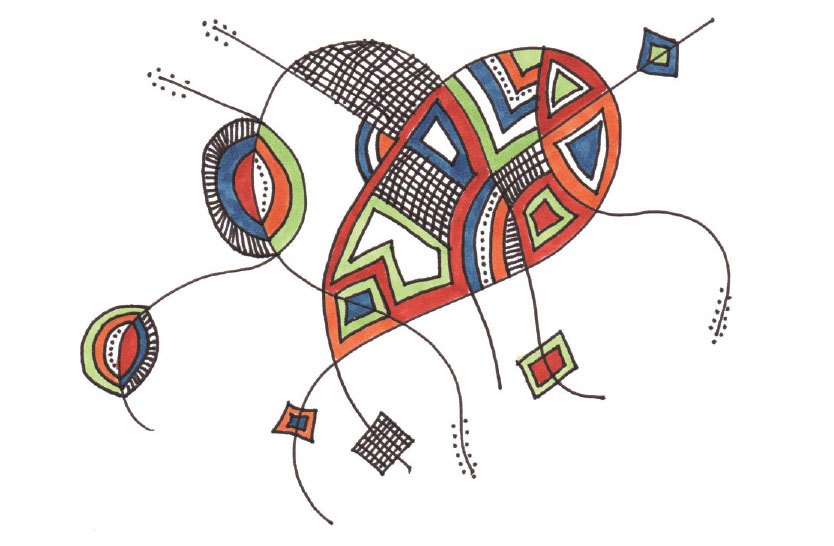 ---
My friend set me free that evening. I went home, bought a dozen colored markers and a few black pens, and began my avocation as a doodler.
First Doodle:
---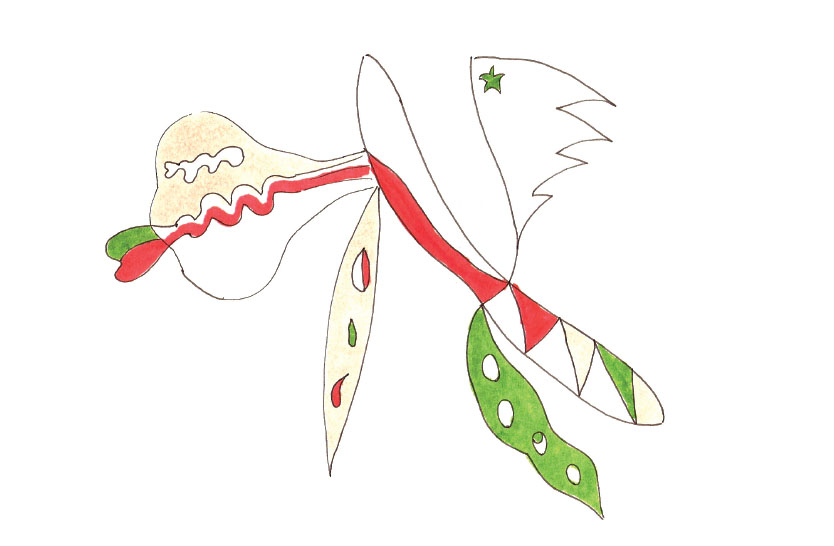 ---
The artist Paul Klee said, "Drawing is taking a line for a walk." Doodling is the line taking me for a walk. It is the surrender of my hand, my eyes, and my brain as an unexpected, abstract design emerges onto the page. Although the design comes from my hand, the pen and ink seem to have minds of their own. Lines, arcs, shapes, squiggles, and dots meander around the page. Their interplay creates nooks and crannies for color.
---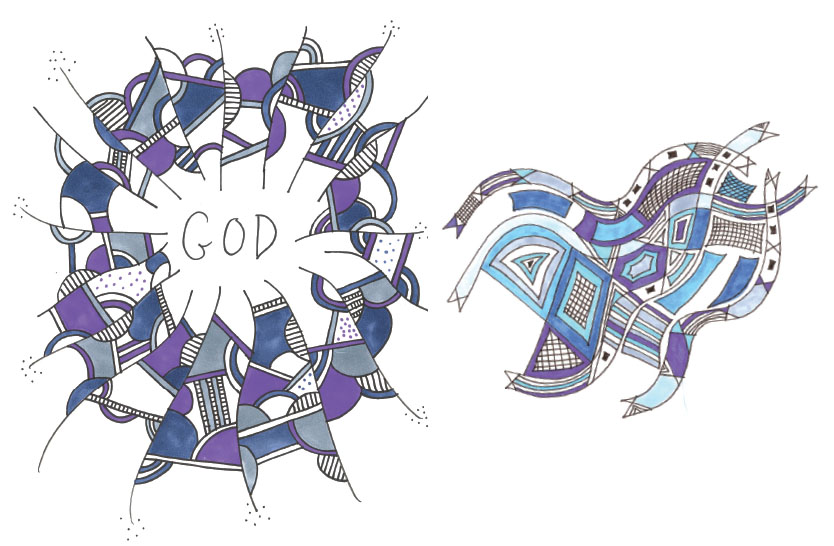 ---
For decades now, doodling has been a playful form of relaxation for me. About sixteen years ago it also became a way to pray and meditate. When a dozen friends and family members were diagnosed with an array of life-threatening cancers, I lost my words. My prayers for them were puny, inadequate one-liners: "Please, God, let Sue live to see her children graduate from high school." "Keep Peter free from pain." "Holy One, heal Chuck." I am a lover of words, but when I needed them for prayer they failed me.
One day I was doodling on my back porch and, without conscious thought, I wrote the name Sue in the center of the doodle. Sue was my sister-in-law with stage four lung cancer. As I continued to draw, add color, and focus on her name, I realized I was praying for her. Each stroke of color, each line, and each dot was a wordless prayer, offering and releasing her into God's care. After I finished praying for Sue, I doodled prayers for Peter, Chuck, and my other friends with cancer. I drew in silence, calm and certain of God's love. When I had filled the page with names and doodles, I not only had spent time with God and my friends, I had a visual prayer list. Every time I looked at it, it prompted me to pray for my friends – with or without words.
---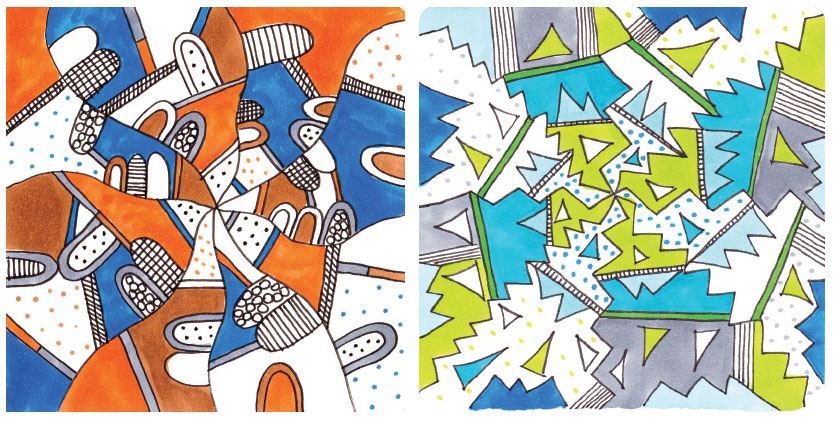 ---
I called my new prayer practice 'praying in color'. What started as an intercessory prayer form gradually expanded to a way to gather my thanksgivings, my sorrows, my confessions, and my hopes. It also helped me to be still and meditate. Although my hand moves on the page and my eyes are open, the rest of my body settles into a quiet place. With no agenda but the need for silence, meditation, and listening, I write a name for God in the middle of the page: God, Beloved, Creator, Sustainer, Holy One … With lines and only two or three shapes, a circular rosette or mandala develops. Sometimes I write words in the spaces and add color. As the design grows, I move deeper into inner stillness.
---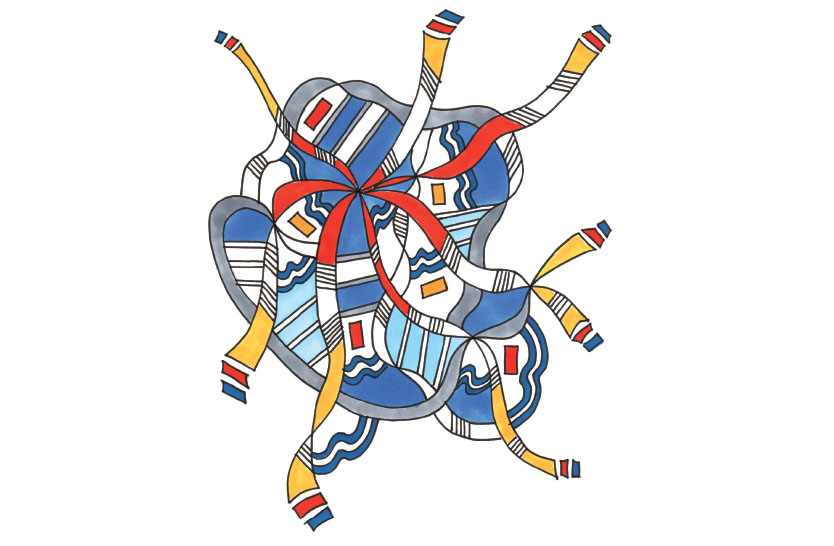 ---
I doodle to both play and pray. In English those words differ by only one letter, the l and the r. In any language they have some similarities. Both play and pray are about letting down our guard, surrendering to the moment, and becoming vulnerable and childlike. I am grateful for that first kitchen doodle and the playful, prayerful journey it began for me.
---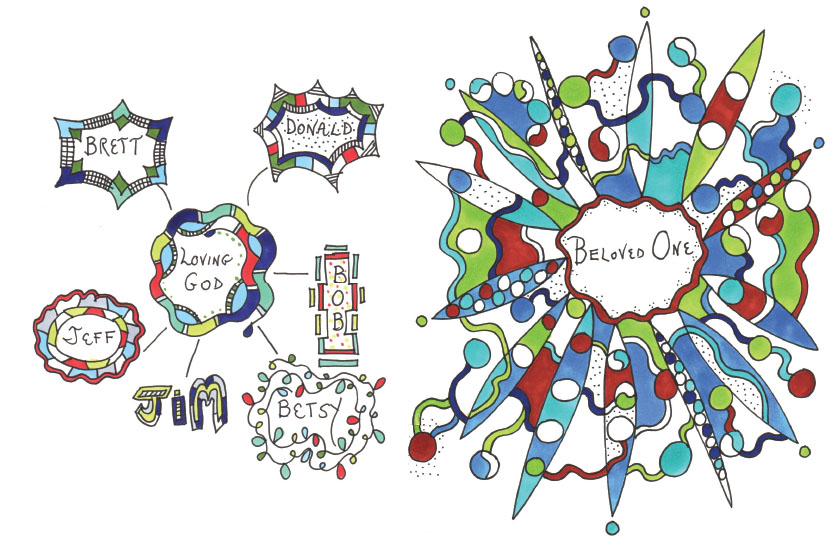 ---
---
Article and doodles by SYBIL MACBETH
---
Sybil is a doodler, a dancer, and a former college mathematics professor. She is the author of seven books including Praying in Color: Drawing a New Path to God (2007) and Praying in Color: Kid's Edition (2009). Praying in Color is a visual, kinesthetic, and meditative prayer practice, especially useful for the antsy, distracted, and word-weary pray-er. Sybil combines her lifelong love of prayer with her experience in the math classroom to offer workshops and retreats throughout the USA and Canada. Visit her website and blog at https://prayingincolor.com/.
Recommended Posts
December 31, 2020
December 31, 2020
December 31, 2020